/
CLEANSE Recipe – Roast Beetroot and Lentil Salad
Here's a gorgeous lunchtime recipe from our 7 DAYS OF ME Vital Cleanse book. It's healthy, clean food at it's best and so vibrant.
ROAST BEETROOT AND LENTIL SALAD RECIPE
Serves two
1 cup of green lentils, cooked
2 medium sized beetroot (we've used a mix of red and orange)
1 small bunch of asparagus or beans
1 cup of spinach leaves
¼ cup of sunflower and pumpkin seeds
¼ cup of coriander or Italian parsley, chopped
Micro greens or pea shoots for garnish
Himalayan or sea salt and pepper to season
Preheat the oven to 180 degrees celsius. Cut any foliage off the beetroot and wrap each one in tinfoil. Bake in the oven for 60 minutes. Test that they are cooked by inserting a skewer or fork, if they are still hard bake for another 15 minutes. Remove from oven, allow to cool enough to handle and then remove the skin and chop into chunks.
Bring a small pot containing 1 cup of water to the boil, add the asparagus stems and blanch for 30 seconds. Remove from the pot and rinse in cold water a few times to cool. Set aside.
Mix all the ingredients together, add Bestow lemon dressing (see below), season and serve.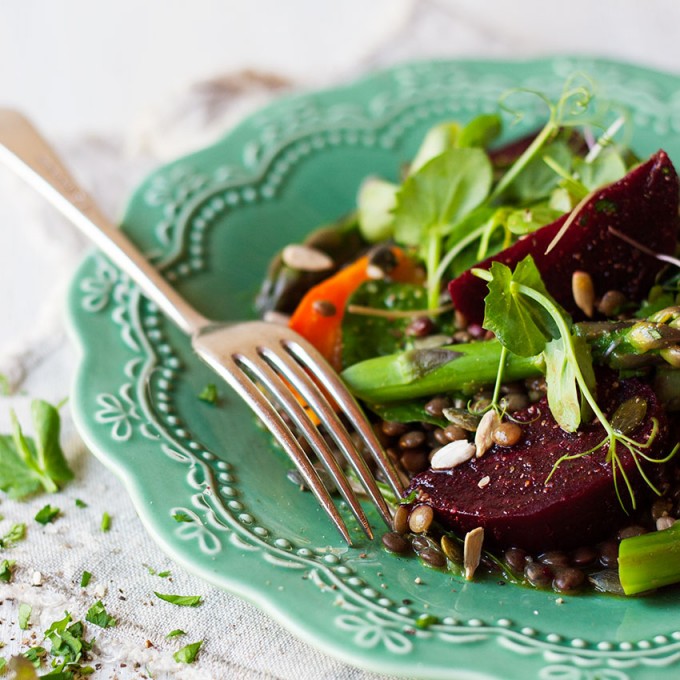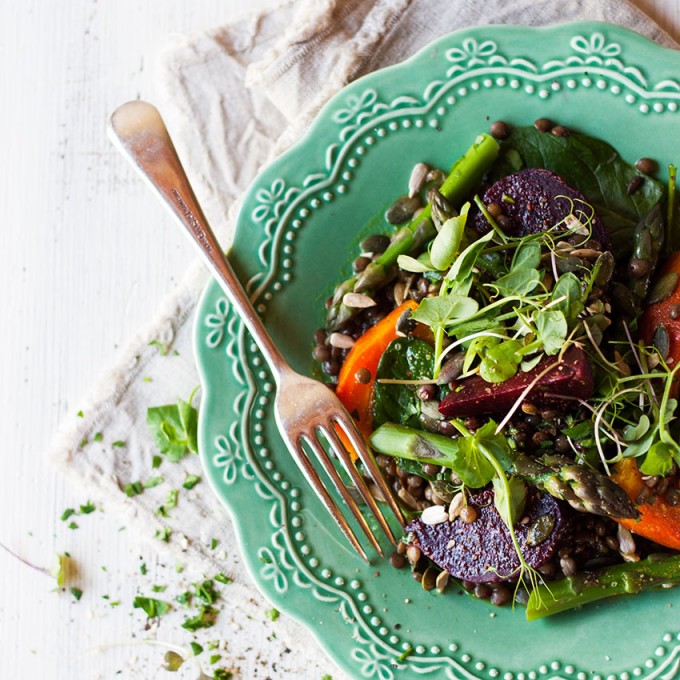 BESTOW LEMON DRESSING
Juice of one lemon
1 tablespoon of Bestow Beauty Oil
2 tablespoons of olive oil
1 teaspoon of Dijon mustard
Himalayan or sea salt and pepper to season
To make the dressing, shake all the ingredients together in a jar. Add seasoning to taste.