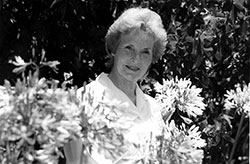 On a hot parched January day in 1981 Janice Smith found "Claret Ash" an old dairy farm. The soil was good, the climate temperate and Janice knew that her plants would thrive there.
To begin Janice moved her family to live in the cottage, and prepared the soil for her first plantings. Over the next few seasons the herb garden took form and Janice began to create her plant extracts. She then turned her attention to the dairy on the property and began its transformation into the laboratory and manufacturing facility that it is today.
JANESCE was launched in 1986 with a small range of skin care that has continued to grow to an extensive selection of products. As the demand for Janesce grew, so has the herb garden. A new dam has been created, another one extended and fence lines moved to accommodate the herb farm expansion.
Organic farming methods have been implemented from the beginning and the farm is certified organic with the BFA / OGA.
After hand harvesting the herbs and flowers are left to dry on wire racks. From there they are stored in large drums until required to create the extracts using a secret method unique to Janesce.
By following the process from soil to skin, Janice was confident that Janesce skin care was delivering a premium quality product for her clients. From the healthy soil grow strong healthy plants that create very potent extracts – the foundation of all Janesce products.
To see the vibrant colours of the healthy plants, tubs of extracts, jars of tinctures, and smell the beautiful natural fragrance that permeates the drying shed and laboratory is to experience a tangible reality of what lies at the heart of Janesce.
JANESCE embodies all that is good – success from working with nature to create harmony in everyday life.