/
Join us in September to care for your body with our 7 DAYS OF ME Janesce Vital Cleanse!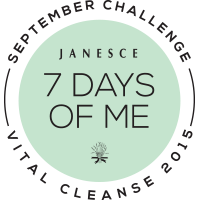 The winter period is often a time of eating and drinking more than we usually do and although we mean to return to a healthy diet when the warmer weather returns, it is common for the bad habits stick with us for longer than intended. So now is a great time to do a detox to reset your body and get yourself back on track in time for Summer.
This September is The 7 DAYS OF ME – Vital Cleanse Challenge month and all around New Zealand beauty therapists are joining their clients to do the Vital Cleanse 7-day detoxification programme to promote health and beauty. I have used this cleansing programme successfully with my clients who are concerned about their skin for the last 20 years but I find it is also is a wonderful general pick me up. Why not join us?
A Vital Cleanse involves eliminating foods and drinks that overload the body and instead, supplying foods that are packed full of nutrients that support your body's natural detoxification processes. It's based on one week of eating predominantly raw, organic foods, selected because of their ease of digestion and the cleansing effect they have on your body.
Naturally, we are endowed with a very efficient cleansing system so if we eat healthy food and drink enough water, our bodies are designed to 'detox' naturally everyday.
However, we all know that this isn't always possible, especially with our busy, stress- filled lives or after a winter filled with eating comfort food! That's why an 'inner cleanse' from time to time will give your body a chance to detoxify and renew itself, and channel its energy into revitalising your skin and body rather than fighting toxins.
Taking the time to do a cleanse can result in a myriad of benefits such as: clearer skin and eyes, increased energy and concentration, a strengthened immune system, weight loss, improved digestion, increased circulation, better resilience against stress; to name but a few. All of this frees up energy and boosts your vitality and longevity!
Stay tuned by joining our 7 DAYS OF ME Facebook group >>