/
Zesty layered fish bake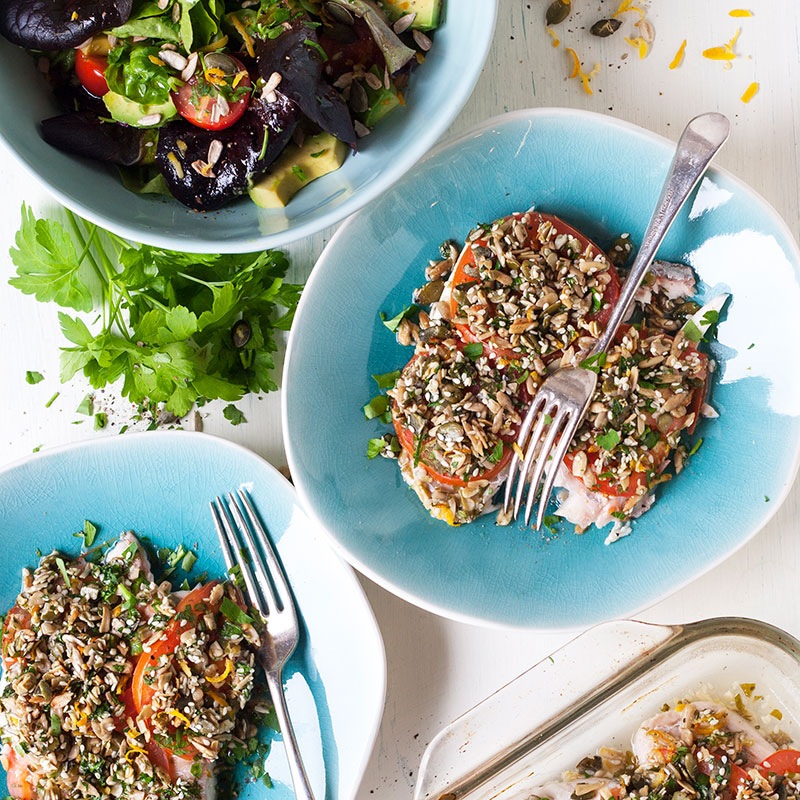 This is a popular recipe from our 7 DAYS OF ME recipe book and guide. It's super easy, healthy, vibrant and the whole family will love it.
Serves 2 to 3
Crust
¼ cup of pumpkin seeds
¼ cup of sunflower seeds
2 tablespoons of sesame seeds
Zest of a lemon
Himalayan or sea salt to taste
Pepper to taste
¼ cup of parsley, finely chopped
1 tablespoon of olive oil
Fish
500 grams of fresh fish
3 medium sized tomatoes, sliced
1 clove of garlic, chopped
¼ cup of parsley, chopped
Juice of one lemon
Himalayan salt and pepper
Preheat your oven to 180 degrees celsius. Pulse the pumpkin and sunflower seeds in your food processor until they resemble coarse breadcrumbs. Place in a medium sized bowl and add the sesame seeds, lemon zest, salt, pepper, olive oil and parsley.
Place your fish fillets in an oiled, shallow baking dish. Layer the sliced tomatoes on top of the fish and sprinkle with parsley and garlic. Add salt and pepper and the lemon juice.
Cover with the crust and place in the oven for 20 minutes until crust is golden brown and fish is cooked. Serve with fresh salad and brown rice.
SHOPPING ESSENTIALS
500 grams of fresh fish (We've used snapper)
Tomatoes x 3
Italian parsley
Lemons x 1
Olive oil
Pumpkin seeds
Sesame seeds
Sunflower seeds
READ MORE about the 7 DAYS OF ME here >>
Join the 7 DAYS OF ME Facebook Group >>