/
My 7 DAYS OF ME Story |Clemency Mutze
The 7 DAYS OF ME Janesce Vital Cleanse programme is a one-week clean eating detox programme. It is a gentle, effective way to detoxify and has been used successfully for over 40 years to treat skin disorders and renew total body health and energy. Click here for details. On the blog today, Beauty therapist, Clemency Mutze, of Clemency Alice Facialist in Christchurch shares her 7 DAYS OF ME story.
Why did you decide to do the 7 DAYS OF ME cleanse?
I decided to do the 7 DAYS OF ME cleanse post-travel since some of the foods that I ate overseas were quite rich and not the healthiest. My body was in urgent need of a 'reboot' and the cleanse gave me an opportunity to get my body back into sync so that I would be more energised and restored for the hectic few months ahead.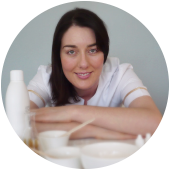 What was the hardest part?
It was especially challenging to control my sugar cravings, especially chocolate! But over a course of a few days, these cravings subsided.
What did you enjoy most?
I enjoyed selecting the organic produce, the preparation of the foods and tasting the flavours of the wholesome combination of ingredients in the recipes.
What were you surprised at?
I have done many detox programs in the past and have struggled with the discipline of these, towards the end feeling very depleted. The Vital Cleanse was surprisingly easy in comparison. It wasn't a 'deprivation' detox but more about 'nourishing' my body and bringing it back into balance with wholesome, healthy foods. My energy levels and appetite were well sustained between meals and I couldn't get over how delicious and tasty the food was.
What were the positive benefits?
I noticed a significant improvement in my skin, it became more radiant and clearer. My energy levels increased and over the course of 7 days the quality of my sleep improved so that I woke up in the morning feeling lighter, refreshed and restored.
What was your favourite recipe?
My favourite recipe from the Vital Cleanse is hands down 'Salmon Parcels with Tamari Dressing and Avocado Salsa'. We still enjoy this some evenings and the flavours and presentation are on par with that of a 5 star restaurant.
Have you made any changes to your everyday eating as a result of 7 DAYS OF ME?
As a result of the Vital Cleanse our pantry and fridge are stocked with wholesome, seasonal and organic foods. Each day we celebrate healthy living through creating nutrient-dense, goodness-packed meals.
Do you think you will do the cleanse again?
The Vital Cleanse is a benchmark in rebooting my body when it is off balance which is why I will continue doing this as part of my 'healthy living' philosophy to sustain an enriched, balanced and nourished life.
Experience 7 Days of Me' for Yourself
Beauty therapists and wellness-focused women from all over New Zealand are joining the Slow Beauty movement, which champions treating skin from within with a holistic, nutrition-enhanced approach. The 7 DAYS OF ME Janesce Vital Cleanse is a fabulous way to introduce this wellness philosophy into your life and clinic. ~Janine Tait | www.janinetait.co.nz READ MORE
Ready To Begin Your Own Cleanse?
The 7 DAYS OF ME Janesce Vital Cleanse books and packs are available at wellness focused skincare clinics around the country. Please email us at admin@janintetait.co.nz for a stockist near you.
Want To Stock The 7 DAYS OF ME Janesce Vital Cleanse products in your clinic?
7 DAYS OF ME is a beautiful wellness cleanses which can revitalise your team, your clients and your business from the inside out. To read positive stories of salons who have embarked on the cleanse together as a team and brought their clients along for the journey, CLICK HERE. To enquire about becoming a Janesce stockist please CLICK HERE.
Read more about the 7 DAYS OF ME Cleanse here.